Looks like your ad-blocker is on.
All content on our site is
free
and
will always be free
.
Please consider supporting us with disabling your AdBlock software and to gain access to thousands of free content!
You can upgrade to
VIP membership
and browse our site ADs-free. To get VIP membership
click here
.
Not sure how to disable AdBLock? Follow this tutorial:
How to disable AdBlock
CSGO Hacks Undetected Free
Osiris CSGO Hack | Best Osiris Cheat 2022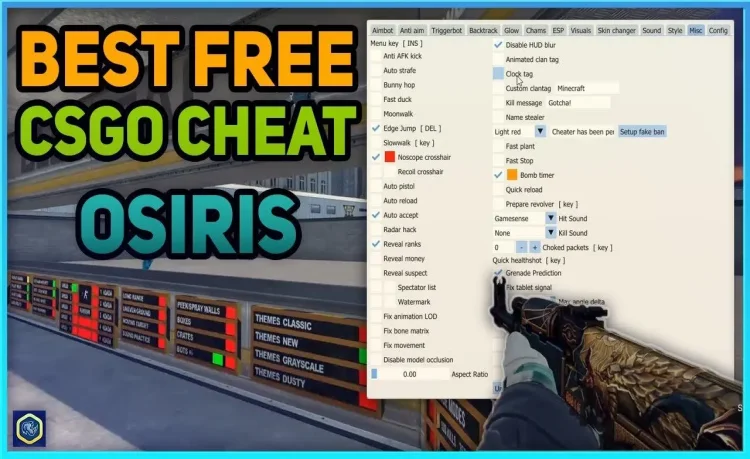 Osiris CSGO Hack | Best Osiris Cheat 2022
Osiris CSGO Hack | Best Osiris Cheat 2021
Everyone is looking for a constantly updated and safe hack in CSGO, this Osiris CSGO Hack is a very safe csgo hack. The developer updates it regularly every week and publishes it on GitHub. Developer Danielkrupinski is sharing the CSGO Osiris hack currently open source on GitHub. If you want to download this cheat from github you have to click here but please note that you have to compile this csgo osiris hack. you will need Visual Studio for this. Not everyone can have a very good performing computer, after all, not everyone is born rich in this fuckin' world. that's why we've added an osiris.dll to the Download button for you, ie a compiled and updated version. I guarantee that we will constantly update this Osiris CSGO cheat on our website.
Instructions for Using the Osiris CSGO Hack:
extract the RAR file from anywhere
open csgo
open csgoinjector.exe and type "Osiris"
press add to show/show menu
Osiris CSGO Hack Features :
Aimbot – aim assist
Active – on/off the main switch
Mute – aimbot is not visible on your screen (client-side only)
Friendly fire – treat allies like enemies
Visible only – aim at visible players only
In scope only – aimbot only works when using binoculars (applies to sniper rifles only)
Ignore flash – ignore flash firing, so aim when local player shines
Ignore the smoke – ignore the smoke so aim when the target is in the smoke
Autofire – shoot automatically when the target is found
Recoil based fov – aimbot uses recoil as fov origin
Fov – field of view where aimbot is operating [0-255]
Max angle delta – maximum image angles per tick vary
Smooth – smooth aimbot motion to look more human
Bone – the bone the aimbot is targeting
Kickback control x – horizontal rebound control factor
Kickback control y – vertical kickback control factor
Triggerbot – fires automatically when the crosshair is on the enemy
Active – on/off the main switch
Key [key] – triggerbot only works when the selected key is held
Friendly fire – treat allies like enemies
Scoped only – triggerbot only works while using a scope (only for sniper rifles)
Ignore the flash – ignore the flash firing, so shoot when the local player shines
Ignore the smoke – ignore the smoke i.e. shoot while the target is in the smoke
Hitgroup – body parts the triggerbot works with
Shot delay – delay time in ms (milliseconds)
Backtrack – abuse of delay compensation to move players back in time
Active – on/off the main switch
Ignore the smoke – ignore the smoke i.e. the return when the target is in the smoke
Time limit – limit the trackback interval [1-200 ms]
Glow – create a glow effect on assets
Active – on/off the main switch
ESP for Osiris CSGO Hack:
Based on health – color depends on the hp of the player
Thickness – outline thickness
Alpha – outline alpha
Style – glitter style [0-3]
Allies – shining allied assets
ESP Multiple for Osiris CSGO Hack:
Enemies – polish enemy assets
Weapons – shining weapons
C4 – left glow C4 explosive
Planted C4 – glow planted a bomb
Chickens – Glow Chicken Entities
Chams – color player models to increase visibility
Active – on/off the main switch
Based on health – color depends on the hp of the player
Alpha – material transparency
Material – material applied to the model
Wireframe – create a triangular mesh instead of solid material
Allies – allies on / off and color applied to them
Visible allies – visible allies on / off and allies with color applied to them
Enemies – enemies on / off and color applied to them
Visible enemies – visible enemies on / off and color applied to them
Weapons – view model weapon cavities on / off and color applied to them
Hands – view model hands-on/off beams and color applied to them
Esp – shows information about the player position
Active – on/off the main switch
Instant lines – draw instant lines to players
Box – draw a 2D box on the player model
Name – draw a player name
Head point – draw point per player
Visuals – a variety of visual options
Disable post-processing – Disable post-processing effects to increase FPS
Inverted ragdoll gravity – reverse gravity acceleration on the falling player ragdoll corpse (during the death sequence)
No fog – remove fog from the map for better visibility
No 3D sky – remove the 3D skybox from the map – Increase FPS
No visual recoil – remove visual recoil punch effect OSIRIS CSGO HACK
No hands – raise arms/hands from a first-person view
No sleeves – remove the sleeved model from the first-person view
No weapon – remove the weapon model from the first-person view
No smoke – remove smoke bomb effect
No blur – remove blur
No coverage overlay – remove black overlay when scoping
Wireframe smoke – creates smoke skeleton instead of particle effect
Misc – Osiris CSGO Hack:
Flash reduction – reduces flash firing bomb effect [0 – 100%] (0 – full flash, 100 – no flash)
View model FOV – change view model FOV [-60-0-60] (0 – actual view model, negative values – minimized view
model, positive values – augmented view model)
Brightness – control game brightness [0.0-1.0]
Skybox – change the sky (box)
Earth color – set the earth material ambient light color
Miscellaneous – various features
Automatic penalty – an automatic penalty in the air after mouse movement
Bunny hop – automatically simulate pressing/releasing the spacebar while holding the skip button; increases movement
speed
Clan tag – set custom clan tag
Animated clan tag – animated clan tag
Quick duck – remove the crouch delay
Sniper crosshair – draw the crosshair while holding the sniper rifle
Recoil crosshair – the crosshair follows the rebound pattern
Automatic pistol – fire guns such as automatic rifles
Auto reload – auto reload if the weapon has a blank clip
Auto accept – automatically accept the competitive match
Radar hack – show enemy locations on the radar
Reveal the ranks – show player ranks on the leaderboard in competitive modes
Spectator list – show nicknames of players watching you
Watermark – show the cheat name in the upper left corner of the screen and fps & ping in the upper right corner.
Fix animation LOD –
Config – configuration system based on binary serialization
Create config – create a new config file
Reset configuration – restore default configuration settings (does not touch saved configuration)
Load selected – load the selected configuration file
Save selected – save the selected configuration file
Delete selected – delete the selected configuration file