Looks like your ad-blocker is on.
All content on our site is
free
and
will always be free
.
Please consider supporting us with disabling your AdBlock software and to gain access to thousands of free content!
You can upgrade to
VIP membership
and browse our site ADs-free. To get VIP membership
click here
.
Not sure how to disable AdBLock? Follow this tutorial:
How to disable AdBlock
GTA V Hacks Undetected Free
GTA V Online: Master the Roulette with Cheat [v1.58]
Looking to make millions in GTA V Online without any risk? Check out this free Roulette cheat! Customize your bets and point number, and avoid unwanted attention from developers. Download Cheat Engine, set the point to sixteen, bet ten on red sixteen, and change your bets amount to 55555. Earn about $1,999,980 each time you bet. Use in an invite-only session and avoid NPC players. No risk of getting banned unless you abuse it. Find more GTA V hacks and cheats at hackshub.co. Download link at the end of the article.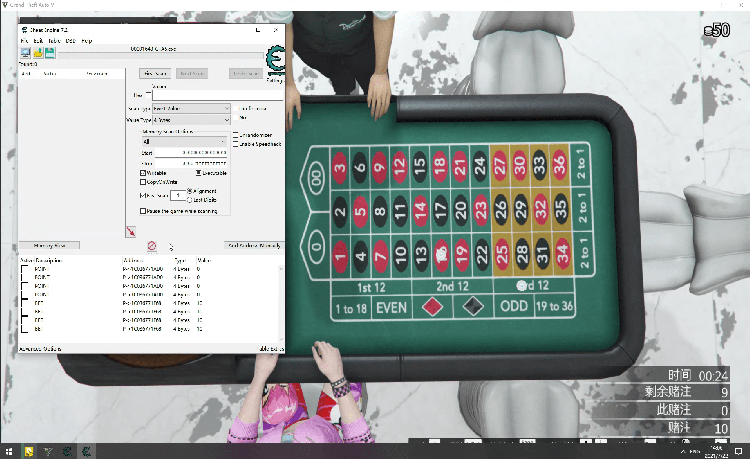 GTA V Online: Master the Roulette with Cheat [v1.58]
GTA V Online Roulette Cheat [v1.57]
Looking to become a millionaire in GTA V Online without taking any risks? Look no further than this free Roulette cheat for GTA V Online! With the ability to customize your bets and point number, it's as simple as that. And the best part? You won't attract any unwanted attention from the developers. Other cheat mod menus may raise eyebrows, but not this one.
How to Use the GTA V Money Cheat:
First, download the Cheat Engine program.
Launch GTA V Online, go to the casino, and find the roulette table.
Set the point to sixteen and lock it. Bet ten of your bets on the red sixteen. Finally, change your bets amount in Cheat Engine to the number 55555 after you see your bet actually reduce from your account. And that's it!
Each time you take a bet, you'll earn about $1,999,980 in the Roulette. It requires some speed to edit your bets manually, so consider setting a hotkey to make it easier, or adjust the game speed.
Important Notes Before Using the Roulette Cheat for GTA V Online:
This table was created based on EGS and may not work for the Steam store.
Basic rule: win twice and lose once. Use the roulette in an invite-only session for yourself. If the roulette table is occupied by an NPC player, return to story mode and re-login to online mode.
Frequently Asked Questions:
- Can I get banned?

No, unless you abuse this method.

- Why does 'P->??????????' occur in Cheat Engine?

The table may be outdated or you may be playing GTA V on the Steam store.

- Will this table have a Steam version?

No, not from me. I have no intention of purchasing another version in another store.
Find more GTA V hacks and cheats at https://hackshub.co/gta-v-hacks-and-cheats. The download link for this resource can be found at the end of this article.